Posted on
On Saturday October 10th, North Korea celebrated the 75th year of its communist regime with a large-scale military parade, during which they unveiled what seems to be the most colossal nuclear missile known to date. Tanks, soldiers, and fireworks dazzled the crowd of elite North Koreans, including Kim Jong-Un and his sister, Kim Yo-Jong.
The North Korean leader gave a 25 minute speech thanking his military. The most notable section of his speech was centered around relations with their neighbor to the South. He claimed that once the pandemic has ended, he wishes that North and South Korea could once again "join hands." He also claimed that "Our war deterrence will never be used as a means for pre-emptive strike. But if…and if any forces infringes upon the security of our state, I will enlist all our most powerful offensive strength."
Major media coverage has conveyed this parade as a grand spectacle, and a demonstration of North Korea's wealth and power. We at PSCORE understand the suffering and hardships that came from this parade. North Korean soldiers and citizens trained for weeks, or even months, to put this event together. Many were forced to participate and would face severe punishment if they tried to avoid it. We believe that North Korea uses these parades and exhibitions not only to show off their military power, but also to distract from the severe human rights violations happening behind closed doors. This form of propaganda not only influences outside perception, but also serves to control and convince North Koreans of their country's greatness. We believe it is important to remember those suffering from the totalitarian regime. It is harmful that major media sources are only focusing on these grand displays of power, rather than shedding light on those facing persecution in North Korea.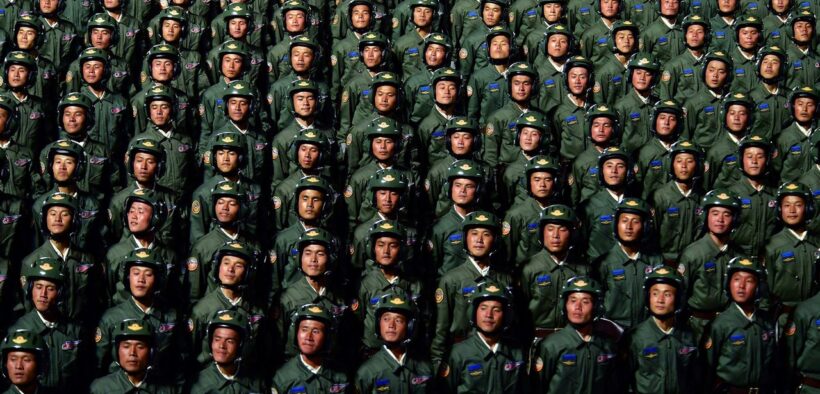 You can find more infromation here: Kim Jong Un Marks 75 Years of North Korean Communism With Giant New Missile – WSJ
If you want to support us and our work donate here: Fund for North Korean Refugees – North Korea – Human Rights – PSCORE